Susquehanna Trailways Bus Schedule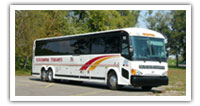 The ELMIRA (North bound) Bus now leaves at 10:30 AM and 2:20 PM
The WILLIAMSPORT (South bound) Bus now leaves at 12:45 PM and 4:20 PM
Please plan to arrive 15 minutes early to purchase tickets.
For After Hours and Weekend purchases meet the driver at the Bus Stop at 51 B South Main Street.
For weekend or after hours bus questions call
Susquehanna Trailways at 1-800-692-6314
Purchase tickets at:
Mansfield Chamber of Commerce
Open 9:00AM - 2:30PM Weekdays
570-662-3442

It is always a good idea to call ahead to verify times and prices.
The bus also has stops in Blossburg, Liberty, and Troy.
Frequent Destinations
City
Harrisburg
Depart
Mansfield 12:45 pm
Harrisburg 11:15 pm
Arrival
Harrisburg 4:00 pm
Mansfield 2:20 pm
City
New York City
Depart
Mansfield 12:45 pm
NYC 7:15 am
Arrival
NYC 8:50 pm
Mansfield 2:20 pm
City
Philadelphia
Depart
Mansfield 12:45 pm
Philadelphia 7:15 am*
Arrival
Philadelphia 8:40 pm
Mansfield 2:20 pm
*Philadelphia 1001 Filbert Street Bus Parking lot Gate 11 Susquehanna Trailways Bus
City
Pittsburgh
Depart
Mansfield 12:45 pm
Pittsburgh 4:50 am
Arrival
Pittsburgh 11:00 pm
Mansfield 2:20 pm
City
Elmira
Depart
Mansfield 10:30 am
Elmira 11:45 pm
Arrival
Elmira 11:30 am
Mansfield 12:45 pm
Depart
Mansfield 2:20 pm
Elmira 3:25 pm
Arrival
Elmira 3:05pm
Mansfield 4:20 pm
City
Williamsport
Depart
Mansfield 12:45 pm
Williamsport 9:30 am
Arrival
Williamsport 1:45 pm
Mansfield 10:30 am
Depart
Mansfield 4:20 pm
Williamsport 1:20 pm
Arrival
Williamsport 5:20 pm
Mansfield 2:20 pm
City
Troy (Departures From Troy Only)
Depart
Troy 10:55 am
Elmira 11:30 am
Depart
Troy 12:20 pm
Mansfield 12:45 pm
Depart
Troy 2:40 pm
Elmira 3:05 pm
Depart
Troy 4:00pm
Mansfield 4:20 pm